REQUISITES FOR DOING BUSINESS IN UAE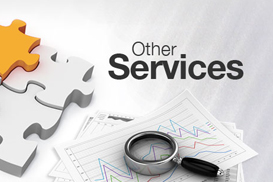 The following steps are outlined below in order to meet the legal requirements of all concerned government authorities and to guarantee maximum commercial benefits for the business owners:
Submit the company registration application form and proposed company name to the Department of Economic Development (DED)
Notarize the company's Memorandum of Association in DED
File company documents with DED; obtain trade license and the Chamber of Commerce and Industry certificate Create a name board
Apply for establishment card at the Ministry of Labor
Register native workers with the Ministry of Labor
Register employees/workers with the Ministry of Labor and General Authority for Pension and Social Security
UAE TRADE LICENSE
UAE Economic Department is the liaising authority to issue trade licenses. In some categories of business, it requires approval from concerned ministries and relevant authorities: for example, banks and financial institutions should have permission from the UAE central bank, insurance companies and related agencies from the Ministry of Economy and Commerce; manufacturing entities from the Ministry of Finance and Industry and pharmaceutical and medical products from the Ministry of Health. More detailed procedures apply to businesses engaged in oil or gas production and related industries.
To carry on some trade activities (e.g. jewellery and insurance) requires the submission of financial guarantee issued by a bank operating in UAE.
In general, all commercial and industrial businesses in UAE should be registered with the Chamber of Commerce and Industry in the respective Emirate.
The entire business activities in UAE can be categorized into the following three categories of licenses:
Commercial licenses covering all kinds of trading activity
Professional licenses including professions, services, craftsmen and artisans
Industrial licenses for establishing industrial or manufacturing activity.

Requirements for obtaining a trade license:

Designate the business category commercial, industrial and or professional
Determine al the related business activities within each business license (Maximum 10 per license)
Plan your business legal status in UAE
Appropriate trading name
Submit an application to the Department for initial approval
Register a trade name after receiving initial approval (option available to reserve trade name)
Lease business premises and obtain approval from the Authority
Prepare all required documents such as memorandum of association and approvals from other relevant government authorities
Submit further application to the department to obtain the final license
Pay the required fees
JAFZA
Jabel Ali Industrial Zone
JAFZA is one of the largest and fastest growing of Dubai free zones. JAFZA, today houses more than 6400 of the world's finest companies. The present JAFZA profile includes more than 150 of the Global Fortune 500 companies. The free zone has come a long way from the 19 companies in 1985. Investors are provided world class infrastructure supported by quality driven value added services and incentives, enabling them to capitalize on the huge business opportunities in the region.
The free zone has come a long way from the 19 companies in 1985. This growth can be attributed to JAFZA's innovative solutions for global industrial investors and focus on long-term customer relationships. It is the first free zone in the world to win ISO certification in 1996.
Advantages:
JAFZA ranks among the world's largest and the fastest growing free zones
25 years of operation with over 6400 companies from 120 countries
JAFZA is the only free zone in the world to be located between he two major logistic enablers – Al Maktoum International Airport, the world's largest airport, and Jebel Ali Port, the world's 6th largest seaport.
A six lane highway facilitates the transportation of goods 9custom bound) from sea to air in just minutes.
Access to a market of over 2 billion people in South and West Asia, the CIS and Africa.
Home of the multinational giants and fortune 500 companies.
Part of the ambitious Dubai Logistics Corridor to link sea, land and air, bringing together multi-modal platform in the Middle East.
TRAKHEES
Commercial Licensing Division of Trakhees is a one-stop-shop business services hub where a company can apply for all the business requirements of licensing and government related services.
Requirements in obtaining a license:
Trakhees Forms
Tenancy contract stamped from RERA land department (Except Nakheel, Dubai Custom, Dubai Port, others)
Passport copy + visa copies (owners + partners + manager) (first time only)
Copy of the No Objection Letter (for non-local) (first time only)
House Tenancy Contract of all Expatriates Managers & Partners
DEWA bill for all expatriates Managers & Partners
Dubai Multi Commodities Centre Authority (DMCC)
DMCC is the master developer and licensing authority for the Jumeirah Lakes Towers (JLT) Free Zone, the fastest growing free zone development in Dubai.
Two types of business licenses are DMCC License, activities in commodities and related trade/servies) and JLT License (other business activities). Within the JLT free zone, companies can set up as a New company, branch, subsidiary, and representative office.
DMCC regulates, promotes and facilitates trade across a range of commodities sectors, including gold, diamonds, pearls, precious metals, tea and cotton. Major multinational companies as well as small and medium enterprises in the commodities sectors have made the JLT district their homes.
DUBAI SILICON OASIS
Established in 2004, Dubai Silicon Oasis Authority (DSOA) is wholly owned by the Government of Dubai and is considered the only technology park in the region that provides both a living and working integrated community.
It is a global, collaborative initiative that will uniquely support the entire advanced electronics value chain with outstanding infrastructure, access to capital, highly educated personnel, and one of the world's best business climates. DSO aims to attract electronics companies engaged in Fabless IC Design, Semiconductor Manufacturing, TEs and Assembly as well as Electronic Manufacturing Systems (EMS).
DSO offers three types of licenses to the investors. They can have a branch of an existing company from UAE or a foreign country, a Free Zone Establishment or a Free Zone Company.
Advantages:
100% foreign owned enterprise
100% repatriation of capital & profits
100% Corporate, personal income tax exemptions
Exemption of import & export taxes
Low cost of operations
State of the art IT infrastructure and facilities with tier 3 data center
Fast-track business set-up & licensing
Dedicated business support services including integrated online E-business system offering tenants fast and efficient services at the touch of a button
Access to regional pool of talented technical and engineering professionals
Stable and clear regulation
Access to consumer markets of 5 billion people (Middle East, North Africa and Indian Subcontinent)
DUCAMZ (Dubai Cars & Automotive Zone)
DUCAMZ is the largest zones in the Middle East where used cars are imported for the purpose of re-export to all the African and Asian countries where the demand of used cars are increasingly rapid. This zone is located in the city surroundings of Dubai.
TEXMAS
Texmas represents the modern vision of Dubai in organizing the local textile trade. Texmas today also has the responsibility of exploring new markets for the trade apart from generating ideas for improving the business environment as a whole.
Advantages:
Exemption from the payments of custom duties for unlimited period.
Option to sublease the premises.
Option to transfer goods to the city without attracting customs duty.
Long lease period and attractive rent.
Stability and discipline is anticipated in DTC, a smart and integrated complex.
DUBAI MEDIA CITY
Since its inception in 2001, Dubai Media City has successfully raised its profile as a place where every kind of media business can operate globally. DMC provides advanced infrastructure and a supportive environment for media-related businesses. DMZ is the ideal hub for media and marketing services, printing and publishing, music, film, new media, leisure and entertainment, broadcasting and information agencies.
Dubai media city has also set up media business centres to promote talent and entrepreneurship targeted at freelancers and independent media professionals. Home to over 1200 companies, it is a place where companies can synergize their resources and reap maximum benefits.
Advantages:
A global media hub
Business-friendly regulations
Easy access to a large market rich with untapped potential
World-class infrastructure & facilities
State-of-the-art offices
High technology communication facilities
Internal work environment
DUBAI AIRPORT FREE ZONE
Located adjacent to Dubai International Airport, one of the fastest growing airports in the world, this is an ideal destination for businesses which require rapid access to markets for high value, low volume cargoes. DAFZA is established and fully owned by the Dubai government and s one of the most premium Free Zones where investors can be part of the high-profile business sectors.
Advantages:
100% foreign owned enterprise
100% repatriation of capital & profits
100% Corporate, personal income tax exemptions
Exemption of import & export taxes
On-site customs inspection
Abundant & affordable energy
Cheap labour & easy recruitment procedures
One-stop-shop administration services
Easy accessibility to Dubai Airport Freezone building and offices within
Companies in the Freezone can work 24 hours a day